Preamble
This Document (Web Page) discloses the Privacy Notice for † www.tkcomputerservice.com.
Privacy Notice for † www.tkcomputerservice.com
Log Files
This Web Site († www.tkcomputerservice.com) MAY make use of log files. The information inside the log files include, but are NOT limited to, Internet Protocol (IP) Addresses, Browser Information, Internet Service Provider (ISP), Date\Time Stamp, Referring\Exit Pages and Mouse Clicks to analyze trends and other general information.
Cookies and Web Beacons
† www.tkcomputerservice.com DOES use cookies to store information about Visitors.
Some Third-parties\Affiliates MAY use cookies, web beacons and etc. on this Web Site by permission or affiliation. † tk Computer Service's Advertising Affiliates include, but are NOT limited to, Google Adsense, and Impact Tech, Inc.
These Third-parties\Affiliates use technology to send you Advertisements, Media and Links that appear through † www.tkcomputerservice.com. They MAY automatically receive your IP address and other general information. Other technologies, such as, but NOT limited to, cookies, DART cookies, javascript or web beacons MAY be used by these Third-parties to measure the effectiveness of their Advertisements and\or to personalize their Advertising Content.
† www.tkcomputerservice.com has no access to, nor control over, cookies and\or the electronic code that is used by Third-parties.
You should consult the respective privacy policies\notices of these Third-parties for more detailed information on their practices. † www.tkcomputerservice.com's privacy notice is NOT inclusive to Third-parties\Affiliates and † tk Computer Service will NOT be held liable for the activities of any Third-party.
If you wish to disable cookies, most modern web browsers will allow you to do so through the browsers options. More detailed information about cookie management may be able to be found at the browsers respective Web Site.
TSV 16.4ft/5M 300LED Waterproof RGB Multicolor Changing Flexible LED Lights with 44Key IR Remote Control
Prices may vary online, in stores, and in-app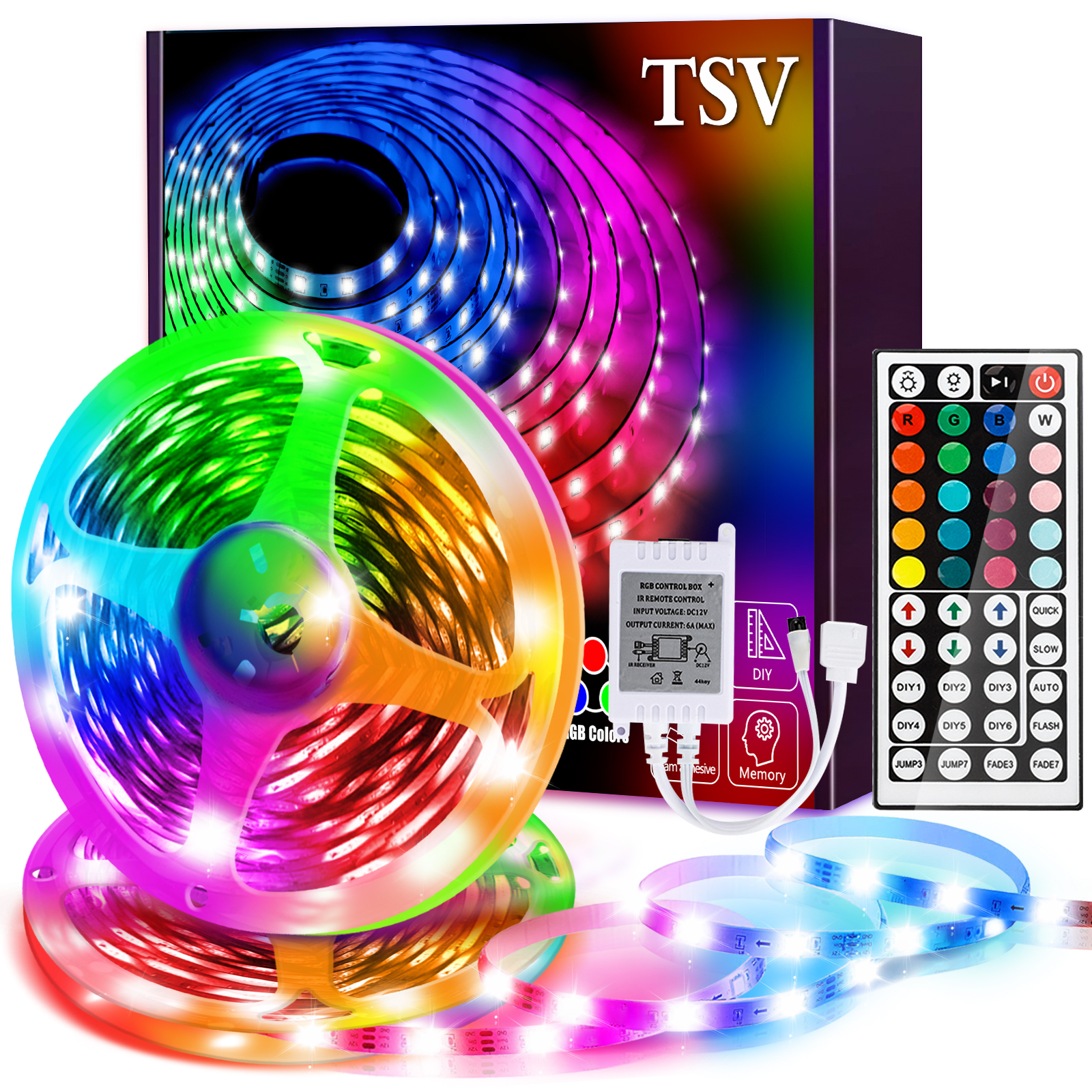 Providing high-quality innovative products that lead consumers to live a better life is TSV Team's mission. TSV LED colorful strip lights will bring you a visual feast! Our LED strip lights are designed with multiple colors and 8 lighting patterns including Quick / Slow / Auto / Flash / Fade change / Jump change / RGB increase and decrease control. The LED lights for bedroom come with a 44 key IR remote controller and 12V 2A power supply. It enables you to DIY different lighting styles depending on your mood through the remote. These color-changing LED light strips have a memory function they will remember the last mode setting when the strip is used again. The IP65 waterproof makes the lights suitable for any occasion both indoors and outdoors. The LED lights are equipped with 300pcs LED the total length is 16.4ft. The cuttable design allows you to cut between every 9 LEDs without damaging the rest strips if you don't need such long lights. We provide strong self-adhesive tape which holds it safely and securely without damaging things by using screws. These LED lights can be easily used anywhere such as the bedroom, counter, bar, in the garden or for birthdays, parties & weddings. Then you can immerse yourself in a soft radiant gorgeous lighting ambiance that completely belongs to you. Notes: 1. There is no white mode. 2. When connecting the load and power lines make sure all connections are right before power is switched on. 3. Ensure there is no obstacle between the IR controller and the receiver when operating. 4. Take off the plastic sheet of remotes battery before using it. 5. Supply voltage of this product is DC 12V NEVER connect to DC 24V or AC 120V/220V.