Preamble
This Document (Web Page) discloses the Privacy Notice for † www.tkcomputerservice.com.
Privacy Notice for † www.tkcomputerservice.com
Log Files
This Web Site († www.tkcomputerservice.com) MAY make use of log files. The information inside the log files include, but are NOT limited to, Internet Protocol (IP) Addresses, Browser Information, Internet Service Provider (ISP), Date\Time Stamp, Referring\Exit Pages and Mouse Clicks to analyze trends and other general information.
Cookies and Web Beacons
† www.tkcomputerservice.com DOES use cookies to store information about Visitors.
Some Third-parties\Affiliates MAY use cookies, web beacons and etc. on this Web Site by permission or affiliation. † tk Computer Service's Advertising Affiliates include, but are NOT limited to, Google Adsense, and Impact Tech, Inc.
These Third-parties\Affiliates use technology to send you Advertisements, Media and Links that appear through † www.tkcomputerservice.com. They MAY automatically receive your IP address and other general information. Other technologies, such as, but NOT limited to, cookies, DART cookies, javascript or web beacons MAY be used by these Third-parties to measure the effectiveness of their Advertisements and\or to personalize their Advertising Content.
† www.tkcomputerservice.com has no access to, nor control over, cookies and\or the electronic code that is used by Third-parties.
You should consult the respective privacy policies\notices of these Third-parties for more detailed information on their practices. † www.tkcomputerservice.com's privacy notice is NOT inclusive to Third-parties\Affiliates and † tk Computer Service will NOT be held liable for the activities of any Third-party.
If you wish to disable cookies, most modern web browsers will allow you to do so through the browsers options. More detailed information about cookie management may be able to be found at the browsers respective Web Site.
Frequent Links

Affiliate Promotion
Kingston FURY Beast 16GB KIT (2x8GB) 3600MHz DDR4 Desktop Memory - $44.99
Prices may vary online, in stores, and in-app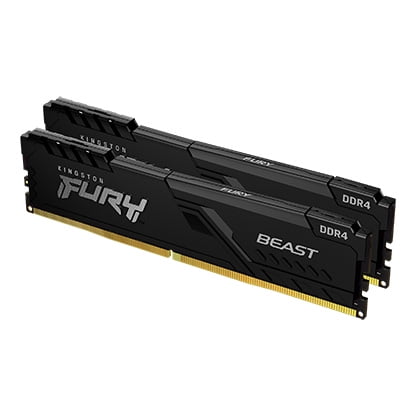 The Kingston FURY Beast DDR4 provides a powerful performance boost for gaming video editing and rendering with speeds up to 3733MHz. This cost-effective upgrade is available in 2666MHz–3733MHz speeds, CL15–19 latencies, single module capacities of 4GB–32GB and kit capacities of 8GB–128GB.